Law Project for Psychiatric Rights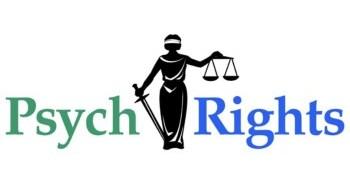 From the Law Project for Psychiatric Rights:
"The Law Project for Psychiatric Rights (PsychRights) is a non-profit, tax exempt 501(c)(3) public interest law firm whose mission is to mount a strategic litigation campaign against forced psychiatric drugging and electroshock in the United States akin to what Thurgood Marshall and the NAACP mounted in the 40's and 50's on behalf of African American civil rights. The public mental health system is creating a huge class of chronic mental patients through forcing them to take ineffective, yet extremely harmful drugs.

Due to the pervasive psychiatric drugging of children and youth, PsychRights has made attacking this problem a priority.  Children are virtually always forced to take these drugs because it is the adults in their lives who are making the decision.  This is an unfolding national tragedy of immense proportions.  As part of its mission, PsychRights is further dedicated to exposing the truth about these drugs and the courts being misled into ordering people to be drugged and subjected to other brain and body damaging interventions against their will."
Resource category
Resource type
Resource link