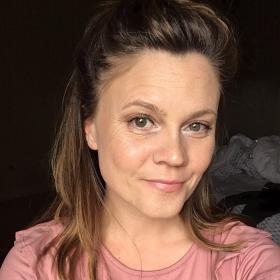 Nicole Lamberson, PA
Co-Founder of The Withdrawal Project, TWP Coordination, Outreach, and Community-Building
Nicole is a Physician Assistant residing in Virginia. She obtained a BS at James Madison University in 2000 and then went on to complete the Master of Physician Assistant program at Eastern Virginia Medical School in 2004. She practiced in an Urgent Care and Occupational Medicine setting until severe iatrogenic illness from psychiatric drug withdrawal and neurotoxicity left her unable to work. 

Nicole first became involved in the psychiatric drug withdrawal community in 2010, after stumbling across Matt Samet's "Beauty in the Breakdown" article in Outside magazine and subsequently having a "lightbulb" moment in which she realized that the six prescribed psychiatric drugs she was taking were the cause of her ills. By that point, she had been "poly-drugged" for five years (for what was initially a presenting complaint of "work-related stress"), and she was physically, mentally, emotionally and psychologically sicker than she had ever been in her life. Unfortunately, without having discovered any withdrawal support resources and "wanting off" the medications immediately and permanently, she was negligently cold-turkeyed from the medication cocktail, resulting in a severe and protracted withdrawal syndrome which still persists today.
Unable to continue working and still very sick from the protracted medication-induced neurological disruption, Nicole has spent the last seven years studying—both psychiatric drugs, themselves, and how to manage withdrawing from them safely. She has found a deep sense of life purpose in working for TWP as well as for other similar awareness, activism, and support projects focusing on iatrogenic illness from prescribed psychiatric drugs. Although a challenge and frustration due to medication withdrawal-induced cognitive impairments, she enjoys writing about psychiatric drug injury and withdrawal and has contributed a few pieces that have been published by various organizations.
Aside from the above, Nicole also founded a small Facebook support group that she co-administrates with the help of two other prescribed-psychiatric-medication-injured peers. As her healing allows, Nicole plans to be even more involved—perhaps either working and/or volunteering in some capacity with a focus in prescribed drug withdrawal management and also participating in education initiatives around psychiatric drug withdrawal for medical prescribers in the future.