The Therapy Industry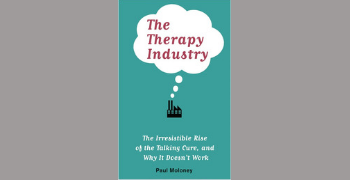 by Paul Moloney
"Across the world anxiety, stress and depression are on the increase, a trend which looks set to continue as austerity measures bite. The official response tells people that unhappiness is just a personal problem, rather than a social one. 

Written by a practising psychologist, with nearly thirty years' experience in the fields of mental health and learning disabilities, The Therapy Industry offers a concise, accessible and critical overview of the world of psychological practice in Britain and the USA. Paul Moloney argues that much therapy is geared towards compliance and acceptance of the status quo, rather than attempting to facilitate social change. 

The Therapy Industry fundamentally challenges our conceptions of happiness and wellbeing. Moloney argues that therapeutic and applied psychology have little basis in science, that their benefits are highly exaggerated and they prosper because they serve the interests of power."
Resource category
Resource type