Thinking About Suicide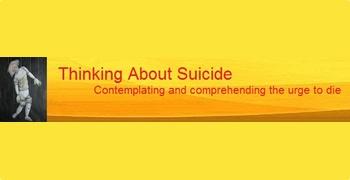 Thinking About Suicide is the inspiring, thoughtful, and thought-provoking website of David Webb, PhD, who says, "Thinking About Suicide includes the story of my own history with suicidal feelings. But it is not an autobiography, nor is this website a blog about me. Rather, Thinking About Suicide is an invitation to think and talk about suicide in a new and different way.
After I finally let go of the urge to die, way back in 1999, I still wanted to make sense of what I'd been through. So I went and had a look at what people were writing about suicide and was taken aback by what I found. Perhaps I should have stayed with Shakespeare and the great novelists but instead I wanted to know what today's "experts" on suicide were saying."
Learn about how to obtain a copy of his book Thinking About Suicide- Contemplating and comprehending the urge to die here.
Resource category
Resource type
Resource link